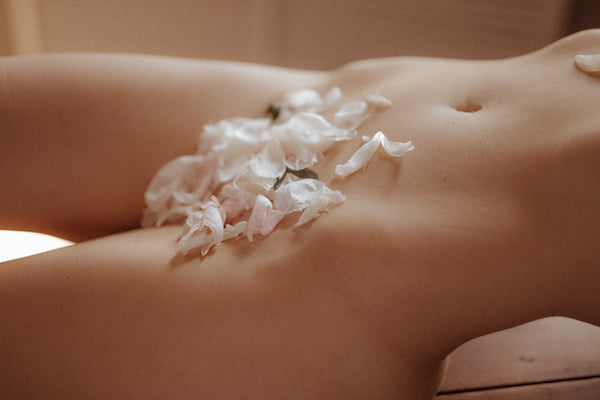 Monday. Tuesday. Thursday. And Friday.
Four times a week, I eat leftovers for lunch. I pack Tupperware and a lunch box and I heat a bit of chicken or mac and cheese or canned soup in the microwave. I sit in front of the desk I spend all week on and I eat lukewarm food off scalding hot plastic.
But on Wednesdays…I treat myself.
There's a little Italian place around the block from the office. The food is great, it's never too busy, and the service is great. I only have 45 minutes for my lunch break, and I can get there, order, eat my meal, and get back to work on time.
When I find something I like, and it's dependable, it becomes a part of my routine. So, every Wednesday, I walk around the block, sit at the same table, and order the same thing: risotto alla milanese.
That Wednesday was no different.
I was only two and a half days into the week, and it was already going terribly. The office was a maelstrom of paperwork, frantic phone calls, and the smothering weight of upcoming deadlines.
When it was finally time for my lunch break, I practically ran out of the office…only to find that the street outside was no better. The street was full of honking cars filling the air with exhaust fumes, angry faces behind windshields, and busy people shoving past me on the sidewalk. If I was going to get a break, I knew where I had to go.
The second that I walked into the restaurant, I knew I had come to the right place. I was hit by a blast of crisp, fresh, cold, air conditioning. The sounds of clacking keyboards, angry phone calls, and stressed sighs were replaced by soothing piano music. There were a few other people in the restaurant, but their quiet chatter was like comforting white noise.
I sat at my regular table at a small booth in the back. The lights were dim, the corner spot cozy, and the table faced a mural of a Venetian canal that provided a gorgeous view. I set my purse and coat down on the empty chair in front of me and settled into my seat.
"Hey, there," someone said. It was a man's voice. Warm with a charming flavor of confidence.
I turned around and looked at the man standing next to me. Well, "young man" would probably be more appropriate. He was in his late twenties or early thirties, around my age, but he looked a little older. It was something about his eyes. It wasn't just the confidence in them, there was something…deep about his eyes, something textured, as if his dark brown irises had been carved with an intricate pattern and drowned in enough varnish to get lost in forever.
The young man had black, curly hair that extended to below his ears. His face was all sharp edges, the tanned skin accented by a thin layer of stubble. His eyebrows were thick but shapely. His nose was narrow and long. His eyes and nose worked together to create depth, shadow, and definition. I could almost picture a sculptor hard at work, getting that balance right, setting his cheekbones high, adding the shadows around his eyes, giving him that strong jaw and pointed chin. He looked like he belonged in a painting. Maybe even a Renaissance painting.
He was wearing a black dress shirt that was tucked tightly around his hard frame. His body was accented by a fine layer of muscle. Combined with his height, his build made him look strong, masculine, and a little intimidating…in the right way. I looked at the name tag pinned to the thin black shirt, digging into the well-defined pectoral muscle underneath.
John.
Not an Italian name, not really much of a name at all. As far as men's names go, "John" is pretty much a blank space. No offense to any Johns out there.
It was then that I realized that John was waiting for something.
Oh. Of course. He had asked me a question and I had been too busy ogling him to notice. "Ogling him?" Is that what I had been doing?
"I'm sorry?" I asked.
"I asked," John said, smiling, "if I could get you anything to drink while you looked over the menu."
"Uh," I started, hating how insecure it made me sound, "I already know what I want."
"That doesn't surprise me," John said. And there was that smile again. Cheeky. Playful. A schoolboy smile, if there ever was one.
"Why," I started, "what do you mean?"
"I'm new here and–" John began.
"I know," I said, "I haven't seen you around."
"I'm new here," John continued, stopping just long enough to flash that schoolboy smile again, "and the other guys were talking about someone and I just realized that they were talking about you."
"What did they say?" I asked, leaning in.
"Oh, nothing much. They just said that there's this woman who comes in every Wednesday. Orders a risotto and a glass of red wine." John frowned, narrowing his eyes, and looking away. In the few minutes that I'd known him, he'd always seemed so confident. But that look was…vulnerable. "Actually, that's not what they said."
"Oh?"
"They said there's this super hot woman who comes in every Wednesday and orders a risotto and a glass of red wine."
"Super hot?" I asked. I was chuckling, playing it off like a joke, but I could feel my body reacting to what John had said. I felt hotter, my skin flushing, my heart suddenly beating faster.
As far as I knew, nobody had ever called me "super hot" before. And why would they? If I had to describe myself in one word, it'd be "plain." Hell, it might even be "mousy." I'm short. Thin. Pale. I have straight, dark brown hair that likes to stick out in random places. I have blue eyes with almost no eyelashes to speak of, and thin lips that tend to be chapped most of the time. How was I super hot? Were they seeing something I wasn't?
John shifted his weight from one foot to the other and crossed his arms. He was uncomfortable. He was reacting to something. Was I blushing? I bit my lip and glanced down at the menu.
"Yeah," John said, "super hot. I actually chuckled at that too. I didn't pay them much mind, you know? I thought it was just talk to pass the time. But I believe them now."
There it was again. My skin flushed with heat. I crossed and uncrossed my legs and did a poor job of hiding it. John glanced down and then back up again, his eyes stopping on my lips as I felt my teeth bite into them.
"Sorry," he said, "not very professional on my part."
"Don't apologize," I said, glancing down at his name tag once again. The name tag was really just the first place my eyes stopped before tracing the rest of his body.
What was wrong with me? This had never happened to me before. Or it hadn't happened to me as an adult, at least. It was like I was a teenager again, flushing and blushing and fluttering at a cute boy who was, for some reason, flirting with me.
Was he flirting with me?
He had to be. He didn't have to mention what his coworkers had said, and he sure as hell didn't have to stare at my lips. When someone stares at your lips, it means they want to kiss you, right? Ugh. There I am, thinking like a teenager again.
"So, the usual then?" John asked.
"Yeah," I said, "thanks."
"You got it," John said, "I'll be back with your red wine." There was something about the way he said that that made me think I'd dropped the ball. He sounded ashamed, yes, but also disappointed? Angry? Not at me, but at himself.
Had I fumbled things that badly?
Just as John was turning around to walk to the kitchen with my order, I reached out and grabbed his wrist. I don't know why I did it, my hand just moved and, when I touched his skin, I was suddenly overrun with emotion. My heart was beating quickly, my ears felt like they were on fire, and I knew that I had to have him, and I had to have him right there and then.
"I have to go to the bathroom," I said.
"Uh, okay," John said.
Great, I was already ruining things. I cleared my throat and, when I spoke, my voice sounded different. More confident. Deep in a sensual way. It was like someone else's voice, and I loved speaking in it.
"I'm going to be in the women's bathroom," I said, "I'll be in the last stall…and I won't be wearing any clothes."
I could feel John's heart beat through his wrist, but I didn't need to feel it to know that I was having an effect on him. He swallowed hard and nodded slowly, walking away and sneaking a glance at my legs under the table as he went.
I sat for a few seconds, my heart beating fast, my cheeks flushed, my mind racing. I could leave, if I wanted. I could forget this restaurant, forget John, and find someplace else to eat on Wednesdays. After all, this was so unlike me. I lived alone. I never went out. I never did anything crazy. I barely have any friends and, the few I do have would never imagine me doing something like this.
But maybe they were wrong. Maybe I was wrong too. After all, I wanted this. I wanted John. I wanted to be bold, daring, and in charge.
So I left my table, went to the women's restroom, and entered the last stall.
I took off my skirt, my jacket, my blouse, and my stockings. I was down to just my bra and panties, standing on the cold bathroom tiles with my bare feet. Did I really want this? Was I really going to get naked and stand in an unlocked bathroom stall, waiting for a man I'd just met?
Yes.
I realized, there and then, that I didn't want John to see me in my plain panties. Plain, the last thing I wanted to be. So I took off my bra and panties and stood in front of the stall door.
A few seconds later, someone walked into the bathroom. I knew, right away, that it was John. His footsteps were heavy and he moved fast, decisively, right toward the last stall where only he knew I was.
I held my breath…
And then he pushed open the bathroom stall and I threw myself at him.
Our open lips touched and I bit down on his, kissing him ravenously. My tongue found his again and again.
John's big, warm hands explored my body feverishly, prodding at my jiggling flesh, rubbing my smooth skin in all the right places.
My hands shot right for John's belt. I undid the buckle, unzipped his pants, and found the hard dick underneath.
Wow.
John was big. Bigger than I imagined. Eager and waiting and ready to penetrate me. And I was ready too.
I put the toilet cover down and sat on it, spreading my legs and giving John a full view of my dripping, waiting, hungry vagina.
John smiled again, and laid down on top of me. He didn't penetrate all the way, not at first. He used the head of his penis to trace the lips of my womanhood, delving deeper only to tease. He used one of his fingers to travel the outline of my pussy, finding the clitoris and…curling deep…he rubbed it gently, slowly, and prodded deeper.
I moaned. It was a breathy, needy, hungry sound. One I'd never made before.
Then John penetrated me, and I shrieked, the sound of my hungry, desperate voice filling the stall, the bathroom beyond it, and probably the restaurant outside.
"You like that," John said, "don't you?"
"Yes," I moaned, my nails digging into John's back as his mouth found one of my breasts.
"Say it," John said.
"I like it," I whispered.
John's tongue traced the area around my nipple in wet circles. It got closer and closer, each rotation probing deeper, flicking more wildly, spinning me out of control. Then the tip of his tongue found my nipple and he began licking it as he sucked around it.
His shaft was deep inside me.
His hands were stimulating my clit and outer pussy lips.
His mouth was on my breast.
And his tongue was licking my nipple.
I wrapped my legs around John's waist and pulled him closer to me. I wanted it all. All of him. All the pleasure I knew he'd give me.
John thrust deeper into me and, as he pulled out, he drove his hard appendage upward so that it hit my G-spot.
I moaned and shrieked, holding nothing back, my feet sliding across the bathroom tiles as I wailed and sweated and came so hard I saw stars.
A few minutes later, I was sitting at my corner table again, a glass of red wine in my hands. My hair was a mess. My makeup was smeared and spread to wherever John's tongue had taken it. My clothes were wrinkled and a few buttons on my blouse were done in the wrong places.
"Here you go," John said, setting a warm plate of risotto alla milanese down in front of me. He smiled confidently. "Enjoy your lunch."
Oh, I already had, and he knew it.
THE END.
Written by: F. Inglewood
F. Inglewood is a writer who strives to transport readers into vivid, personal and erotic worlds. Each of their stories is a sensual escapade that you might find yourself daydreaming about. After all, it could happen to you!