Over the course of the pandemic, a lot of us have focused on how to satisfy ourselves with the different tools that we have at our disposal. For a lot of us men, one of the common items that comes to mind is a fleshlight. It is easier to store, clean, and definitely gets the job done. But what if I told you that you may have been missing out on life's biggest pleasure in the form of the 

Warrior - a hands free automatic masurbator

. The item is from Honey Play Box which is one of the best brands when it comes to getting the best toys to play with.
While I do understand that there are frequent reservations when it comes to using automatic technology due to its unfamiliarity,  you might want to give this high-tech thing a chance at giving you all the satisfaction that you need. Here, I'll give a thorough review and why this item is currently at the top of my list.
What is the Warrior?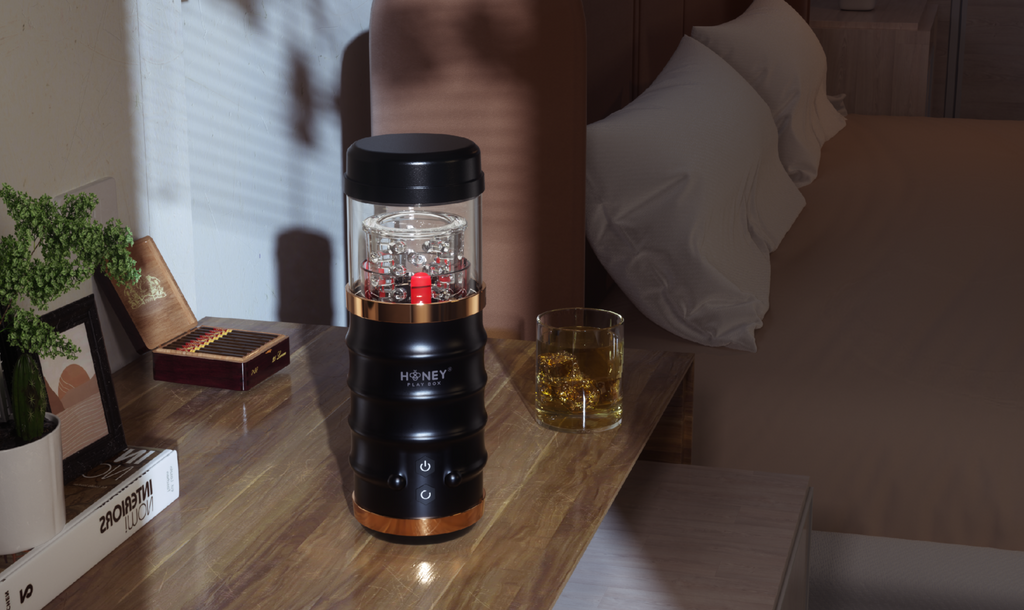 The Warrior or complete item name Warrior: Hands-free Thrusting Stroker Automatic Masturbator is a 10.62-inches masturbator that is highlighted by its automatic and an insane rubbing sensation that comes in seven thrusting and rotating patterns. It is the same size as your usual fleshlight has two distinguished sections: the holder and the insertion area.
This Honey Play Box item comes in a black and gold design which gives it an elegant or fancy look. The handle part is made with ABS plastic and is patterned for easier grip. You'll also find the control buttons and battery storage here. In terms of set-up, the item makes it easy to locate essential components for a read-to-use experience. On the top of it you'll see the soft and elastic silicone that does the job well.
The item is composed of three parts: handle, lid, and removable silicone. The detachable sections make it easy to clean. One downside is that it only comes in a black design. If you're looking for something to match your other hues, you might find design choices a bit limiting.
How To Use?
The device is composed of two buttons: the on/off button and the control button. The item is easy to use as you just need to press the switch button until you find the one that works for you. The seven vibration and rhythm design makes it thrilling to use. Notably, it's not a complicated device despite its looks. It's definitely easier to use than your smartphone. The buttons are easy to distinguish making it less likely to press the wrong one. Despite the variety of patterns and sensations, grip-wise, it doesn't make it hard to hold and it remains in place the entire time you use it. It's definitely convenient to use and would be recommended for any beginners.
Features:
Packaging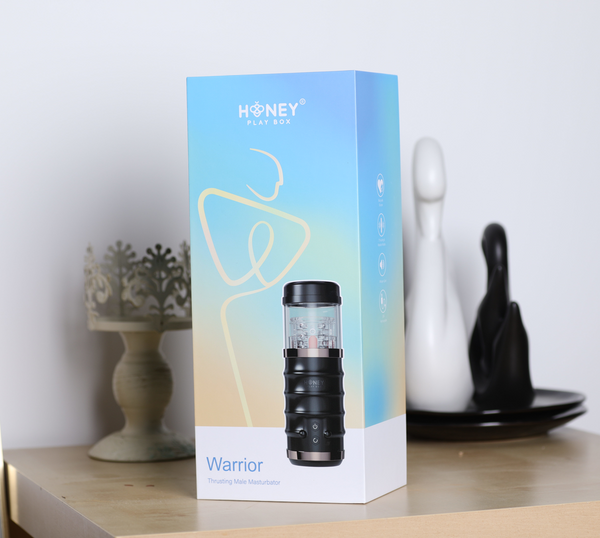 First things first: the Warrior is discreet when it comes to their packaging and billing options. It will seem like any other box and will not indicate the item in any way except for parcel identifiers to help locate the correct address of delivery. I also received the item around a week after my order placement so for me it didn't take that long to arrive at my doorstep.
After opening the delivery packaging, you'll be greeted by the Honey Play Box packaging that features the image of the Warrior. You can also find all the important details and basic information printed at the side of the box. Inside, you'll find your item placed in foam for added stability to prevent damages arising from unwanted bumps during delivery. There is also a tag that contains all instructions for use. My item did not contain any defects so to me, that was excellent.
Power-Up
The Warrior comes with a Li-ion Rechargeable battery that can run up to three straight hours of continuous use. It's a great partner for longer rides or if you prefer taking things slow. If you're looking to charge up your batteries, it only takes two hours from zero to reach full capacity. It might take a little longer if you plan on using the device for a full three hour in a single go. But if you're like me who uses it in a fifteen to twenty minute intervals, then a single full charge can last up to a few weeks depending on how much you use it. For me, it lasts long enough to give me pleasure and a second round if needed.
Functionality
One of the best parts about the Warrior is its movement mechanisms. The toy itself is built for high-speed thrusting and rotating, giving you that extra power and sensation whenever needed. Despite this, the Warrior only produces minimal noise. It's barely loud enough to be overheard or to even be noticed. You can say that you can have fun without worrying about getting heard.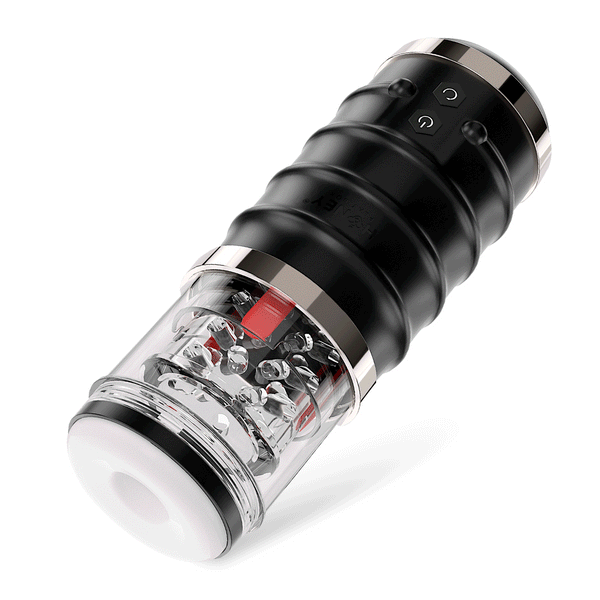 Sensation
If you're new to using this type of toy, it might take a while to settle. Just relax and focus on what movements make you feel good. Insertion was quite easy and satisfying, the elastic silicone definitely does the job in giving a tingling yet ideal softness. Once inside, you'll feel the gripping beads that add to the sensitivity of the item. Once you have your toy properly set up.
Just turn on the device. It has multiple options and can easily be changed with one touch. All you need to do during this part is familiarize yourself with the different pleasure points of each pattern. You can use this to find which ones work, which combos goes together. I really think that the material used goes well with the patterns.
It doesn't feel rough at times and easily be adjusted when in use. After the first five minutes of figuring it out, I was testing different ways to maximize the pleasure I was getting.
Clean-up and Hygiene
Since the item is only composed of three parts, its quite easy to disassemble and clean up. At most, you'll be washing the inner sleeve. It doesn't take that long in terms of washing and air drying. After that, just reinstall the transparent top cover and you will be good to go.
Storage
Since the item is just 10 inches long with 3-4 inches in terms of diameter, it does not take up much space to store. You can store it in your cabinet or just at your bedside table considering its just like any other tumbler that you have.
Other Details:
Weight
The item is just 1.74lbs, it's not ultra heavy that warms out your arms but its not heavy enough to be left on its own. It's best if you keep your hand on it just to make sure that you can control how you please yourself rather than relying on the Warrior.
Control
The Warrior is easy to hold, even with the strongest vibration setting. Its easy to handle, does not resist the direction that you want to take it, and gives you as much space to find the perfect spot for your needs.
Lube Recommendation
Generally any lube that is safe with silicone or TPE should be fine with the product. I do prefer water-based lubricant to give it a much life-like feel when in use.
Delivery Details
They usually have a free shipping for orders more than $69. It also comes with a 1-year warranty just in case there are any defects with the product. In my case, I just have the boxes and other packaging materials close just in case it will be asked from me. Delivery days can be from three to seven days.
Personal Story
My first encounter with Honey Play Box was a few months ago when I purchased sex doll. After browsing their website recently I saw that they had this convenient and easy-to-store masturbator, The Warrior.
It was just $109.99 with automatic mechanisms which are pretty convincing since that removes all the work that comes with getting the pleasure.
I ordered from the website and within the first week of ordering, I received the device I wasn't really in a rush since I was busy with work so I didn't really mind the duration of delivery. One of my favorite parts when it comes to their service is the discreet packaging.
No hints or clues of the order except general delivery details. After opening it, i saw that the device requires two hours of charging time to maximize three hours of operation. Since it was a Saturday night and everyone is busy with their lives, I figured that now is the perfect time to try out the device.
With the device fully charged and fully wiped to properly disinfect, I had to bring out the lube! I wasn't risking any bruises so better be safe while at the same time making the use of the device much smoother. The moment I entered, the softness was definitely surreal.
It's like tight lips slowly gobbling you whole. To be honest, the mere device without being automatic is good in itself until I turned on the device.
The thrust on this thing is definitely amazing. I didn't hesitate in making it stronger and stronger to familiarize myself with the settings. I personally like to take it slow but you can go straight to the fastest setting.
It was so good that I had to stop just to control myself since I wanted to enjoy the device further. Each sensation was unique and each thrust was definitely better than some of the real things. Easy to say, I came so much after 30 mins and I almost passed out in my bed from exhaustion. I can feel my entire self gasping for breath for that experience.
It has been a good month with the Warrior and I can definitely say that it suits the name.
Conclusion
The Warrior or the Hands-free Thrusting Stroker Automatic Masturbator is a great beginner-friendly sensational item. For me, the price tag of $109.99 comes as a steal considering the item quality of all parts. It does feel like it can last a long time with proper maintenance and cleanup.
In my case, I clean it up every use and so far it has not shown any signs of wrinkle or looseness in terms of tightness.
Usage-wise, it keeps me satisfied after a long day of work without doing much of the work. It's pleasurable, you can change your preferences depending on your day-to-day mood and the Warrior will give you exactly what you need. There aren't many downsides to it except for the design options available. While the price may be costly to some, you can think of it as an investment for your needs that can surely last a long time.
Written by: Ralph M.